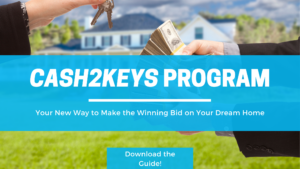 Now Introducing:
CashOffer
In today's housing market, competition is fierce and chances are you are competing with a number of different buyers all making offers on your dream home. That's why the CashOffer Program was created and now available to Virginia Homebuyers!
A Cash Offer can help you stand out in a competitive market by generating interest and conveying financial confidence to sellers and their agents!

Fill out the form below to access our Cash2Keys Guide!
Cash2Keys Guide
Fill out the form below for access to a comprehensive overview of the new CashOffer Program including; Program Overview, Benefits of Cash Offers, How it Works, and Answers to Frequently Asked Questions!

Cash Offer' and 'Buy Now, Sell Later' programs are fulfilled by AnnieMac Private Equity Cash2Keys (Cash2Keys), an affiliate of AnnieMac Home Mortgage (AnnieMac). Cash2Keys is not a financial institution and does not originate or issue loan commitments. You must be pre-approved by Cash2Keys for the Cash Offer program's income and collateral requirements. Once approved, the offer and purchase will be in the name of Cash2Keys. You must then purchase the home from Cash2Keys within 180 days. You are required to pay all transfer taxes associated with the purchase of the home. Visit anmac.me/cash for terms and conditions on Cash Offer. For complete licensing information, please visit: www.annie-mac.com/page/licensing.