Deciding to become a Virginia first-time homebuyer can be both stressful and exciting. When it comes to first-time home buying, things like making sure finances are in check, navigating the housing market, and securing a mortgage can take away from the excitement of becoming a homeowner. To make the process as smooth and stress-free as possible, we created this guide to explain everything you need to know.
Advantages First-Time Homebuyers Have in Virginia
Fortunately, there are many advantages that Virginia first-time homebuyers have. For example, those who generally qualify as first-time homebuyers can reap the benefits of low to no down payments, state programs and grants, and even tax breaks.
Who Qualifies as a First-Time Homebuyer in Virginia?
If you have not had ownership in a principal residence for at least three or more years, you generally qualify as a first-time homebuyer. Even if you have owned a home before, there is still a chance you are eligible as a Virginia first-time homebuyer. Therefore, it is crucial to check what specific qualifications are needed when searching for mortgage loans, state programs, grants, or tax credits. Your real estate agent can also assist you in choosing the right programs and assistance for your situation.
Federally Backed Loan Programs for First-Time Homebuyer's
Certain federal government agencies back several different loans with lower credit score requirements and a lower minimum down payment. The requirements and qualifications for these loans vary for various programs.
One of the most popular examples of a federally backed mortgage loan that first-time homebuyers take advantage of is an FHA loan. This loan is insured by the Federal Housing Administration and is designed for individuals with lower credit scores, and requires a down payment as low as 3.5%. Other examples of federally backed loan programs include VA Loans for veterans and their families and USDA loans for low-income borrowers in rural areas.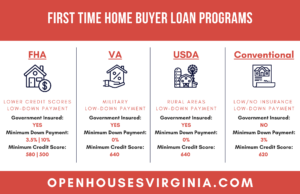 State Loan Programs, Grants, and Tax Credits for Virginia First-Time Homebuyers
Every state has different programs available to first-time homebuyers that make purchasing your first home more affordable. In the commonwealth, Virginia first-time homebuyers the opportunity to receive up to 2.5% of the purchase price for a home to be used for a down payment. Furthermore, the grant does not require repayment, so you don't have to worry about paying it back. For a complete list of programs offered to Virginia residents, check out the Virginia Housing website.
As a Virginia first-time homebuyer, you are also eligible to receive tax breaks just by owning a home. One of the tax breaks you may qualify for when you purchase a home is the home mortgage interest deduction, which allows homeowners to deduct the amount of interest paid from their taxable income.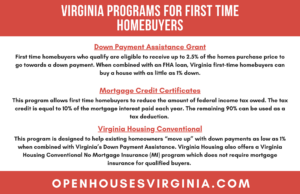 The Steps to becoming a Virginia First-Time Homebuyer
Step #1: Evaluate Your Finances
One of the most important first steps to take when you are thinking about purchasing a home is to make sure you are ready to make this decision. Not only do you need to be prepared to make a down payment, keep up with your mortgage payments, and pay for moving expenses and closing costs; you will also need to make sure you have enough money set aside to cover general costs that will come with your new home. The last thing you need to worry about once you own a home is figuring out how to pay for problems that may arise around the house. This is where an emergency or rainy-day fund can come in handy.
Once you have your finances figured out and you think that buying a house is in the cards, you will need to determine how much you can afford to spend on a new home. To do this, you must find out what your credit score is and your debt-to-income ratio. Next, make sure you have all the documentation you need, including W-2 forms, bank statements, tax returns, and a complete list of any assets and debts. From there, it's time to begin part two of your journey of purchasing your first home in Virginia.
Step #2: Shop Around and Get Preapproved for a Mortgage
After you determine you are financially ready to purchase a home, the next step is to shop around different lenders to compare what type of financing is available. It is essential to keep in mind some of the opportunities available to Virginia first-time homebuyers discussed in the previous section. Your goal here should be to choose a mortgage with the lowest rate and best terms possible for your situation.
Preapproval will also give you a leg up and increase your leverage during the buying process. One reason for this is many real estate agents require a client to receive preapproval before they work with them. Additionally, obtaining a preapproval letter from a lender gives you a stronger position in the housing market.
Step #3: Find a Real Estate Agent
Finding a real estate agent is extremely important when buying your first home for many reasons. Real estate agents can help walk you through all aspects of the home buying process and provide you with an abundance of information regarding the local market. On top of that, real estate agents are skilled at finding the best house that fits your needs and negotiating the best possible offer and terms for the home.
Are you ready to start working with a trusted Virginia real estate agent or just have a few questions about the home buying process? Complete the form below and one of our Real Estate Agents will reach out, and help with anything you may need.
Agent Roster Contact Form
Step #4 Start your Search for your next Virginia Home
After completing the initial steps in your Virginia first-time homebuyer journey, it is time to start searching for your next home. It is crucial to determine what your needs and wants are for your first home during this step. Using an outline or checklist can help you prioritize the most important aspects you are searching for. Prioritizing your needs and wants is also very helpful for your real estate agent to help narrow down the search and identify homes they believe will be a good fit.
Once you and your real estate agent have found several properties that match the types of homes you are looking for, you then need to check out the homes for yourself. Covid-19 has somewhat changed the open house scene in the United States. Many homes for sale now come with virtual tours, which give you an in-depth look at the properties all from your mobile phone or computers. While these are a great way to narrow down your list, we recommend that you still view the house in person during an open house. Although virtual tours do a great job of showing you the house, nothing beats stepping foot inside and getting the complete picture.
Finding open houses that meet your criteria may seem difficult, however there are numerous resources that can assist in this process. For example, our open house search engine allows you to search for open houses based on your criteria.
Step #5 Make an Offer
After visiting open houses and deciding on which one you want to call your first home, it is time to make an offer. It is vital to keep your budget in mind and discuss your options with your real estate agent. They will help you make the best offer and negotiate terms and closing details on your behalf.
If the seller rejects the initial offer, don't panic. Real estate agents are accustomed to making counteroffers and working with the seller's agent to come to a deal. In the unfortunate event that both parties can't agree, it is essential to remember not to try to spend more than you can afford. There are many other houses out there to fit your needs. You have to be patient.
Step #6 Hire a Quality Home Inspector
One of the worst things that could happen after you move into your new home is discovering problems that could be financially devastating or require your time and effort rather than relaxing in your first home. Therefore, getting a home inspection before you close is extremely important when buying your first home.
Home inspections can cost around 300-1000 dollars, depending on the size of the home and the extent of the inspection. Inspectors usually check the home's structure, heating, electrical systems, roofing, and plumbing. If you're not sure who to go to for home inspectors, your real estate agent will most likely be able to recommend a few to you.
It is also important that you and your agent are there during the inspection if any problems arise or have any questions. If the inspection identifies any issues with the home, there are usually a few things you can do. The first is to negotiate with the seller to lower the cost of the house to cover the repairs needed or ask them to complete the repairs themselves. The other option is if there is a contingency in your offer regarding the home failing inspection, you will be able to back out of the deal.
Step #7 Get Homeowners Insurance for your New Virginia Home
Buying a home is one of the largest investment's individuals will make during their lifetime. Therefore, it is imperative as a Virginia first-time homebuyer to protect your investment if something unexpected happens, such as a fire, flooding, or damage from a natural disaster. This is where homeowner's insurance comes in. Before you step foot in your new home, it is crucial to ensure that your home is protected.
On top of protecting your home from unexpected problems that arise, Homeowners insurance is required by lenders. Generally, lenders will require you to show proof of homeowners insurance before or during the closing process.
When it comes time to buy homeowners insurance for your first home, it is essential to secure enough coverage to cover the cost of rebuilding your home if it is destroyed or seriously damaged. Additionally, in some areas that are more likely to experience certain natural occurrences, such as flooding, additional coverage may be required.
While homeowner's insurance is vital to protecting you against unforeseen problems you may face, keeping an emergency fund is also necessary. Having an emergency fund ready ensures you have the required resources to get through any situation.
Step #8 Close on your New Home
After scouring through the housing market and having an offer accepted, it is time to begin the process of becoming the legal owner of your first Virginia home. This process can be stressful and sometimes comes with unexpected setbacks that prolonged your moving into your first home. That is why it is extremely important to understand what is required of you and what to look out for when it is time to close.
What is Closing and What You Should Expect?
Closing is the final step in the home buying process to become the legal owner of your first home. Once your offer is accepted, you cannot simply begin moving into your new home. Generally, the closing process can take anywhere from a week to 60 days. According to Ellie Mae, the average time it takes to close on a loan is 47 days for a conventional mortgage loan and 52 days for an FHA loan.
Closing Costs are fees charged by a third party when you are finishing up buying your home. Some of these costs are paid before your closing date, such as home inspection charges and your earnest money deposit. Other closing costs such as appraisal fees, credit report charges, attorney fees, and more are paid the day of closing. On average, closing costs come out to be around 3-4% of the purchase price for your new home. Make sure you have estimated what closing costs you will incur to ensure you have the funds necessary to go through your home purchase.
Unfortunately, the closing process is complex and contains many moving parts, which sometimes lead to roadblocks and delays. Some of the significant problems that can arise are problems with the appraisal, home inspection, loans, or issues with paperwork. Therefore, it is so essential to be prepared when it comes time to close.
Preparing to Close
While you may have already finished some necessary steps to prepare for closing, such as getting a home inspection and obtaining homeowners insurance, your work is not done.
During this process, make sure you have all the necessary documentation to finish your purchase. To avoid common closing problems, you will need to have identification, income statements (w-2 forms, pay stubs), asset statements (investment and bank accounts), Insurance documents, and a copy of your contract with the seller.
Closing Day Has Arrived
Today is the big day. It is the day you become the legal owner of your first Virginia home. Throughout the entire process, you have devoted countless hours to finding and making an offer on your first home. The last thing you want is for something to fall through at the last minute. That's why before you head to the title company office, make sure you have all the necessary documentation you need, along with a certified or cashier's check to pay your down payment and closing costs.
When you go in for closing, you will be signing several different documents and forms. Don't rush through this process. Make sure you understand what you are signing, and don't be afraid to ask any questions you may have. After all, documents are signed and closing costs paid, the title company will place the new deed in your name. After all these steps are complete, you are officially the legal owner of your first home.
Step #9 Move into your New Virginia Home
The day has come for all your hard work to pay off and for you to move into your first Virginia home!
If you are a Virginia First-Time Homebuyer and still have questions about the home buying process, feel free to submit them in the contact form below. A licensed Virginia real estate agent will be able to answer your questions and help you with anything you need!