Current Virginia Housing Market
If you have started to think about beginning the search for a new home or are currently in the process, you have probably realized by now that Virginia's housing market is extremely hot. Housing prices continue to increase, and finding the home of your dreams in this market may seem almost impossible.
According to Redfin, home prices in Virginia rose 14.9% year over year in June. At the same time, the number of homes sold in Virginia increased 27%, while the number of homes for sale in the commonwealth fell 21.3%.
With homes selling well above their asking price and in record times, many people feel that they don't stand a chance in the current market. Fortunately, there are ways to succeed and find your next home in today's market, all while staying within your budget and maintaining your sanity.
What Is Causing Virginia's Housing Market to be This Hot
To survive today's housing market, understanding what is causing the recent housing market cycle is crucial. While many factors affect the Virginia's housing market, the two main factors driving the current trend are a limited inventory of homes and low mortgage rates.
Limited Housing Selection in Virginia
Like the rest of the country, Virginia's housing market is experiencing a meager supply of homes for sale. The low supply of homes for sale leads to rising home prices since supply is not keeping up with demand. Many sellers are hesitant to list and sell their homes because they fear they may have trouble finding a new house for themselves once they sell their current home. On top of that, new home construction has continued to be minimal since the housing crash a little over a decade ago. Overall, the limited supply of inventory coupled with a meager new home construction has led to bidding wars and a fast-paced market.
Mortgage Rates are Extremely Low
On top of the low supply of houses for sale, mortgage rates are historically low. With increased demand and limited supply, home prices rise. When mortgage rates are lower, they increase the buying power consumers have. Increased buying power leads buyers to bid up the cost of housing. Furthermore, buyers know that interest rates are likely to increase in the coming years. Therefore, they are incentivized to buy now and lock in a lower mortgage rate, increasing the demand for housing.
How to Navigate a Hot Virginia Housing Market
While many homebuyers may be scared away from today's housing market, it is important to understand that buyers can still find their dream home while staying within their budget. Here are some tips to help you survive in today's competitive Virginia real estate market.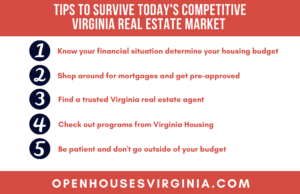 Know your Financial Situation and Stick to Your Budget
In any housing market, it is vital that buyers first know their financial situation. Before beginning to search for houses, buyers should know how much home they can afford. Buying a home is one of the largest investments a person will make during their lifetime. Buyers need to budget for a down payment, closing costs, and move-in expenses. They also need to make sure they can afford the costs of owning a home, such as mortgage payments and utility expenses.
Once buyers have examined their finances and determined how much house they can afford, they must stick to their budget and not spend more than they can afford. Staying within a budget is especially hard to do in today's market when numerous buyers engage in bidding wars. Therefore, to survive in today's markets, buyers must make the best offer they can afford and ignore their competition. It may be tempting to go outside of your price range after several rejected offers. However, this could end up leaving you "house poor," and what should be a good investment turns into your worst nightmare.
Get Preapproval for a Mortgage
Preapproval is the first step in qualifying for a mortgage and is a good way for buyers to get a leg up on their competition. In a seller's market, where multiple buyers compete against one another for the same home, having preapproval is almost a must. Sellers will be more likely to accept an offer from a preapproved buyer rather than a buyer who is not. This is due to there being less risk of a sale falling through when a buyer has preapproval.
Having preapproval also gives buyers more room to negotiate when making an offer on a home. A seller is more likely to compromise with a buyer if the seller believes that the sale is a sure thing. For example, the seller may be more inclined to make repairs or improvements.
Additionally, preapproval assists buyers in figuring out just how much they can afford to spend on a home. A preapproval letter from a lender will generally tell the buyer what type of loan they qualify for, how much they are eligible for, and what rates they will have to pay. With this information at hand, buyers can better set their budget when looking for homes.
Find a Trusted Virginia Real Estate Agent
Having a trusted real estate agent during the home buying process is essential even in a regular housing market. When it comes to a competitive and fast-paced market, having a real estate agent is even more critical.
In a market where homes are listed for a short amount of time, buyers must move quickly. Real estate agents can search for listings that match a buyer's criteria and alert buyers as soon as a house goes on the market. This allows buyers to get their foot in the door and establish a relationship with the seller quickly, which gives the buyer an advantage over others searching for homes.
Our real estate agents are here to help you navigate today's competitive Virginia housing market. Whether its answering questions you may have, or assisting you through the home buying process, we've got you covered. If you would like one of our agents to reach out to you, all you have to do is complete the form below!
Agent Roster Contact Form
Get Assistance from Virginia Housing (Formerly VHDA)
Virginia Housing was established in 1972 by the Virginia General Assembly to help Virginians attain affordable and quality housing. Virginia Housing offers numerous programs and resources to help individuals realize their goal of becoming homeowners. Many of the programs offered by Virginia Housing aim to assist Virginians with the cost of housing. For example, Virginia's Down Payment Assistance Grant provides first-time homebuyers who qualify funds to help with their down payment. For more information about programs available to first-time homebuyers in Virginia, take a look at our Virginia First-Time Homebuyer Guide.
On top of the loans, grants, and tax credits, Virginia Housing also offers educational resources. These including homebuyer classes and support housing counseling that encourages responsible homeownership. Check out the Virginia Housing website for a complete list of all the programs and resources available to homebuyers.
Be Patient When Searching for your New Virginia Home
Patience is one of the best ways to make sure you survive in Virginia's competitive housing market. While the process of buying a home may be more hectic than usual, you can still find the home of your dreams while remaining within your budget. Prioritize what you need and want out of a home and understand that waiting a few extra weeks to get a house that suits you and your family will be worth it in the long run. If you are having trouble finding houses for sale that meet you and your families needs, check out our open house search engine.
If you still have questions about navigating today's competitive Virginia housing market, feel free to complete the form with your question below. Once we receive your questions, one of our agents will reach out with an answer as soon as possible.